Hi Coaches, Captains, and Parents!

Thank you again for all your hard work and dedication to this program. We are very excited about the upcoming season that starts Monday, June 11. Should you have any questions or problems throughout the season, please let us know.

Have a great summer!

---
Sportsmanship and USTA Player Oath
Please take time to review the Player Oath with your juniors! We want this to be a fun experience, and feel it's extremely important to promote good sportsmanship at all levels!

Player Oath
I recognize that tennis is a sport that places the responsibility for fair play on me.
I promise to abide by the rules of the game, which require me to give the benefit of the doubt to my opponent.
At all times I shall strive to compete with the true spirit of sportsmanship, recognizing that my behavior on the court is a direct reflection of my character.
Whether my matches end with my victory or defeat, I promise to conduct myself in a way that honors my opponents, those who support me, and the game of tennis.
---
Match Schedules and Captain's Rosters
Schedules for Junior Team Tennis are available on TennisLink for Denver-Metro & Northern Colorado. Southern Colorado schedules will be available soon. Click here for specific instructions on how to access schedules and captain phone numbers.


---
Court size and ball type reminder
Remember to use the correct court size and ball type for all JTT matches.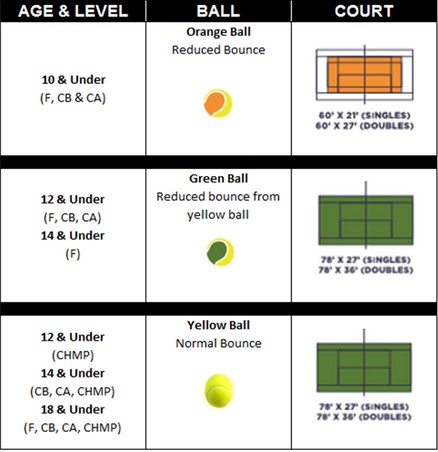 ---
Facility Usage Reports
The facility usage report can be very helpful for facilities in planning your matches from week to week. When possible, each site was scheduled to have no more than half of your teams at home for each time. Contact Saryn Mooney if you have any questions about your facility usage.

Facility usage reports for Denver Metro, Northern Colorado, and Southern Colorado can be downloaded at COLORADOTENNIS.com.


---
Important Notes
Time Slots – Times vary depending on age and area of Colorado.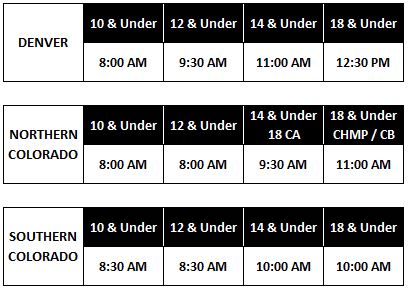 Playoff Format - teams that advance to the State Championship need to have 3 players at each match. If a team defaults a line at the State Championships, the opposing team will be allowed to receive their lineup back, be told which line is being defaulted, and adjust their lineup if they would like.

---
Have a great league season!

USTA Colorado League Department
Note: Replies to this email will be sent to support@coloradotennis.com. To contact the League Department, please use one of the email addresses above.