Maricaye Christensen Daniels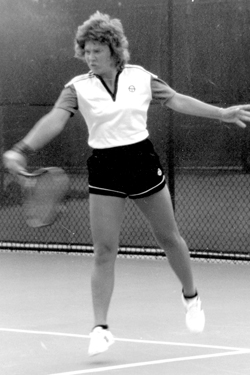 Born in Grand Junction, Maricaye Christenson Daniels took up tennis at age ten, during a time when she also excelled at diving and horse jumping. In spite of the scarcity of indoor courts, practice partners and weather-friendly months for an outdoor-sport, success came rather quickly for Maricaye.

Her junior career led her to the University of Southern California where she played No. 1 singles, and was ranked in the top ten in the Southern California women's open singles for 10 years in succession. After graduating from USC, she joined the women's professional tour, which took her around the world and played at famous venues such as Wimbledon, Forest Hills, and the French Open.

Maricaye won several tournaments as an adult, including winning singles, doubles and mixed at the Intermountain Championships in 1977. As a senior player, she has won numerous gold and silver USTA National Championship balls.

She continues to compete in the 60s both sectionally and nationally.