Andrea Jaeger
(1965- )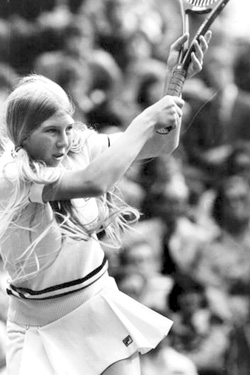 Sister Andrea (she became an Anglican Dominican nun in 2006), uses her professional tennis career to help children with terminal illness and their families.
She became the youngest-ever Wimbledon seed at 15 years-old, and was the youngest semifinalist in US Open history. A finalist at the 1982 French Open and 1983 Wimbledon, Andrea climbed to the No. 2 world ranking, her career-best. Her tennis career ended with a severe shoulder injury at the 1985 French Open, and she retired in 1987.
During her playing career, Andrea became aware of her life calling to help children. With the prize money she earned on the tour, she moved to Aspen in 1989 and started the Little Star Foundation, which provides specialized medical, financial, educational, camp, family and hospice programs – at no cost to the families – for terminally ill, abused or at-risk children.
In 2001, she was inducted into the World Sports Humanitarian Hall of Fame.